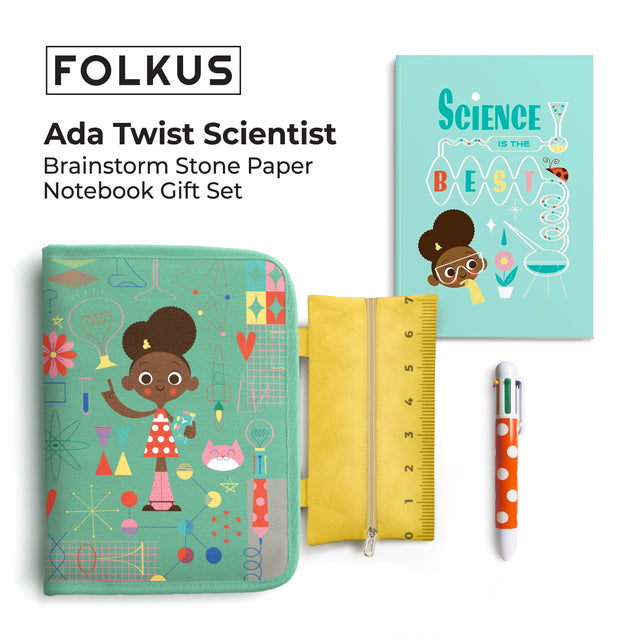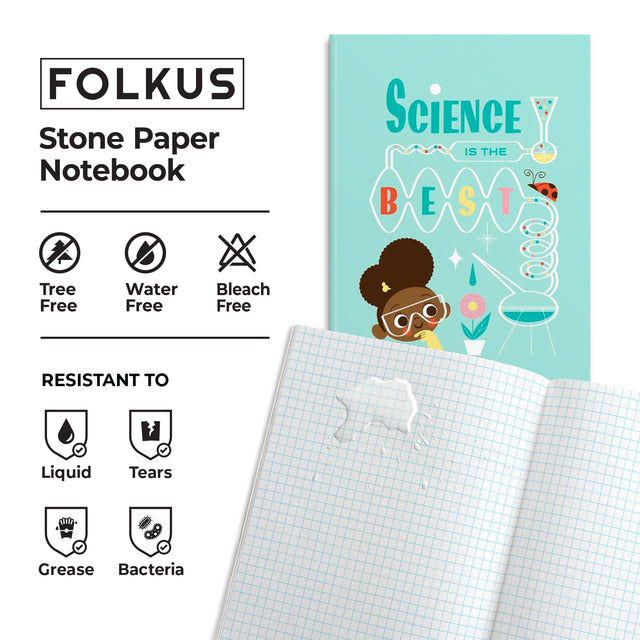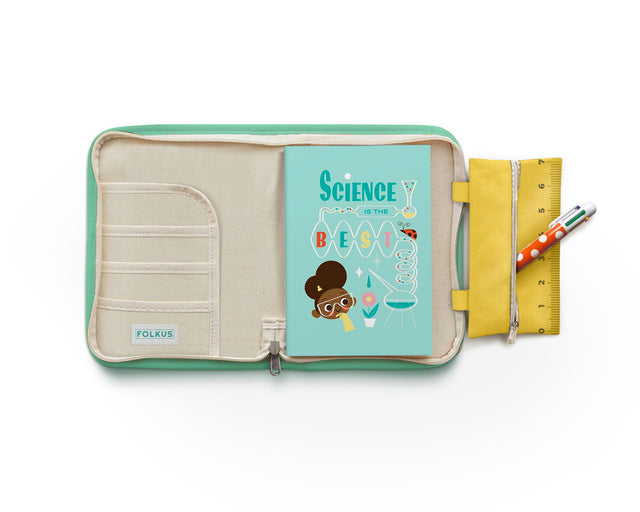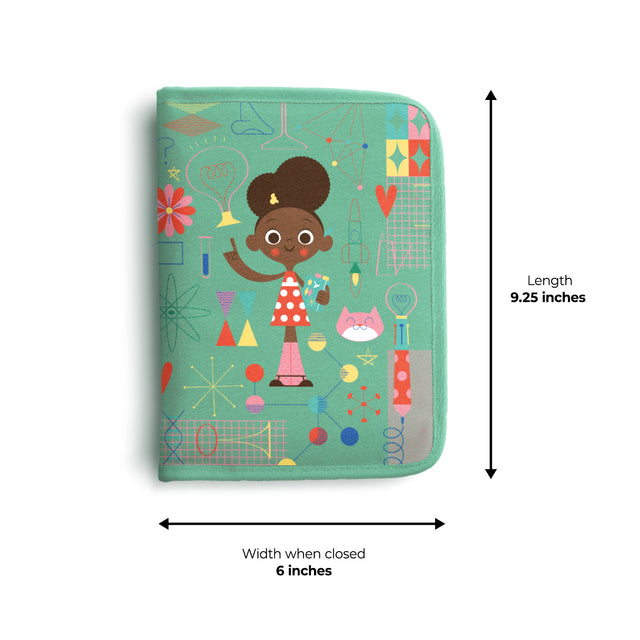 FOLKUS x Netflix Ada Twist Scientist Brainstorm Gift Set
This is a collectible, limited edition product available while supplies last.
Gift set includes:

100% cotton canvas organizer
sustainable stone paper notebook
100% cotton canvas, detachable pencil pouch
6-color retractable pen for the budding scientist
 For ages: 3+
The Ada Twist Scientist Brainstorm Stone Paper Notebook Gift Set enables your little scientist/architect/engineer to discover, brainstorm ideas, test hypotheses and store items in a zipper closure canvas set. The eco-friendly FOLKUS Brainstorm set is ideal for the child on the go and features refillable notebook and accessory cases. Worry less about drink spills, greasy fingers, germs and daily wear & tear when you use the refillable FOLKUS stone paper notebook. Unlike traditional tree paper, stone paper does not absorb liquids or grease; wick away liquids or pat dry the pages of the notebook. FOLKUS notebook pages are durable and do not tear, fray or decay (e.g. brown) with normal use. The 100% cotton canvas notebook cover case and detachable pencil pouch can be washed, used separately and safely store your child's stuff – notebook, pens(s) and the things they will discover while learning and playing. Ada's signature graph ruled paper and mantra "Science is Best" can be found on the exclusive FOLKUS stone paper notebook. This gift set is thoughtfully designed to encourage active learning, modeling the practices of scientist and help children make sustainable choices.
Inspired by Ada Twist Scientist, the FOLKUS Brainstorm Stone Paper Notebook Gift Set is perfect for the budding scientist to discover, test hypotheses, capture ideas and observations in a liquid resistant stone paper notebook, plus stay organized with canvas case and pencil pouch


The 9.25"x 6" Brainstorm Notebook set is ideal for curious kids learning on the go—the full zipper closure canvas cover stores the refillable, stone paper notebook (96 pages), detachable pencil pouch with 7" tape measure graphic and 6-color polka dot retractable pen


MADE WITH HIGH QUALITY MATERIALS: The Brainstorm notebook is made with FOLKUS eco-friendly stone paper – an upcycled alternative to tree pulp paper. No trees, water or bleach are used in the manufacturing process of FOLKUS stone paper. Stone paper is made from upcycled limestone and resin. Stone paper is liquid/tear/grease/bacteria resistant. The 100% washable cotton canvas cover features a full zipper closure


Based on Netflix's hit animated series, Ada Twist Scientist, FOLKUS developed this set to mimic Ada's favorite brainstorming tools – a notebook and retractable pen


GREAT GIFT FOR ALL: FOLKUS Brainstorm Notebook set is the perfect gift for Ada Twist Scientist fan and science and sustainability enthusiast
Inspiration